1. Fortress Fun
Use chairs, blankets and pillows to set up a makeshift fort to hunker down on snowy winter days. Add fairy lights too create more cosiness, and don't forget the hot cocoa while you share tales of winter wonderlands as a family.
Why we love it: Building a fort requires problem-solving and spatial awareness as children strategize on the construction and layout of their fort. Collaborating with friends or siblings encourages teamwork and communication and fosters a deeper emotional bond with others.
2. Puzzles
What's more classic than playing with puzzles when you're stuck inside? Puzzles are a timeless, screen-free activity for all ages, but they're especially captivating during the cozy winter months. While any puzzle will do for creating festive family memories, we're especially fond of our circular Four Seasons Puzzle, which tells the story of the four seasons in an exciting, engaging way.
Why we love it: As children fit the pieces together, they're using spatial reasoning, enhancing memory, and fostering patience, and the act of identifying the right piece and its placement sharpens hand-eye coordination and fine motor skills. This process instills a sense of accomplishment, boosting a child's self-esteem with each completed puzzle.
3. Holiday Crafts
Crafting is a delightful way to keep children engaged during the frosty winter months. You only need two household items to do one of our favourite craft activities: making paper snowflakes! Children fold and snip the paper to create something that's uniquely their own, all while exploring different shapes and patterns.
Why we love it: Making decisions about designs, colours, and patterns bolsters their creativity and problem-solving abilities. Different textures and materials create sensory tactile experiences, and these projects also serve as cherished keepsakes, capturing the spirit of the season.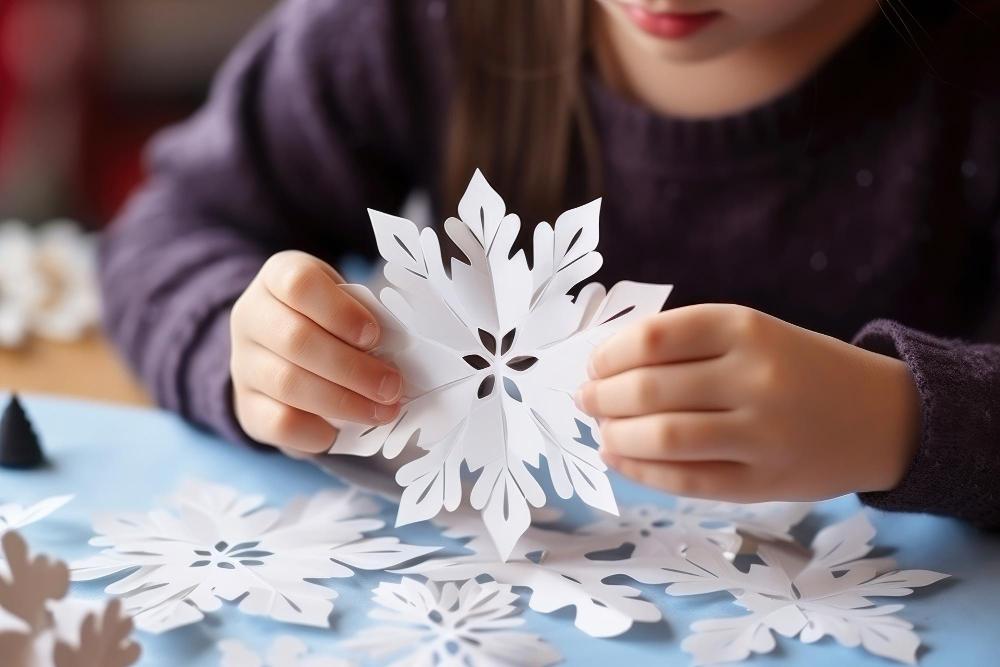 4. Dance Party
If you're stuck inside on a cold winter day, why not turn the living room into a dance club? Create a playlist of your family's favourite songs and have a dance-off in your living room. Consider adding props like scarves, hats or glasses to amp up the fun. If you're feeling competitive, you can even organise a mini dance-off, with family members showcasing their best moves and perhaps awarding a fun, homemade trophy to the best dancer.
Why we love it: Dancing is an excellent way for children to express themselves freely, all while boosting their mood and promoting physical fitness to fight winter lethargy. It's also a great way for the family to bond and create memories together.
5. Screen-Free Fun with Hape
If you're looking for some engaging, hands-on activities with Hape toys, our Quadrilla and Railway toys are just the ticket. Quadrilla Marble Runs transform living spaces into dynamic marble races and challenge children to design and assemble tracks for their marbles to glide, twist and turn. With our Railway sets, children lay tracks, connect carriages, and navigate their miniature world, engaging in deep imaginative play.
Why we love it: Whether they're setting up train or marble tracks, both activities champion problem-solving, spatial awareness, and hand-eye coordination. They also create a space for engaging in collaborative play.
6. Winter Walks
Dress up warmly and venture outside for a winter stroll. Whether it's through your neighbourhood, a local park, or a woodland trail, the transformed landscape offers a fresh perspective. Listen to the crunch of leaves or frost underfoot, observe how trees and plants change, and maybe even spot winter wildlife. Don't forget to bring along a flask of warm tea or cocoa to keep you toasty as you explore!
Why we love it: Winter walks are a sensory delight, allowing children to experience the sights, sounds, and textures of the season. They promote physical activity, helping to combat winter lethargy, and encourage observational skills as they notice the seasonal changes in nature.
7. Nature's Treasure Hunt
Draw up a winter-themed list of items for children to find outside, such as pinecones, icicles, animal tracks, or different types of leaves. Equip them with baskets or bags and set them off on a wintry adventure. Once found, encourage crafting out of their found materials.
Why we love it: This activity encourages observational skills and gets children attuned to nature's subtle changes during winter. It also promotes physical activity and explorative learning, teaching children to appreciate the smaller details in the world around them.
8. Stargazing
With super short days, winter presents great opportunities for stargazing with your young ones. Lay out some blankets in your backyard or find a quiet spot in a nearby open space on a clear evening. Equip children with a basic star map and let them identify constellations, spot planets, or even catch a glimpse of a shooting star. For added fun, challenge them to create their own constellations and stories behind them.
Why we love it: Stargazing sparks wonder and curiosity about the vast universe beyond our planet. It introduces children to basic astronomy concepts and celestial navigation. Sharing stories about constellations fosters cultural and historical awareness, while creating their own constellations boosts imagination and creativity.
9. Snow Sculptures
If you live in a snowy climate, then making snow sculptures is a no-brainer.
Gather up some gloves and tools and venture out into the garden or park to create your very own snow sculpture. It can be a classic snowman, an intricate animal, or a mythical creature, and the only limit is your child's creativity.
Why we love it: Sculpting with snow engages children in a tactile, hands-on experience that hones their fine motor skills. As they visualize and craft their designs, they're fostering creativity and sharpening observational skills. Collaborating on larger projects can also teach teamwork and foster a sense of accomplishment.
10. Leafy Crafts